90 YEARS OF BEING PIONEERS IN THE CONCRETE INDUSTRY, CIFA S.p.A. JOINS & SPONSORS THE BIG 5 HEAVY & MIDDLE EAST CONCRETE SHOW
In talks with Marco Polastri, Sales, Aftersales & Marketing Director
CIFA S.p.A. will be exhibiting its latest products at The Big 5 Heavy & Middle East Concrete show in Dubai this November. We spoke to Marco Polastri, the Sales, Aftersales & Marketing Director; here's what he told us as he prepares to participate at the two events, which provide access to all infrastructure products and solutions under one roof.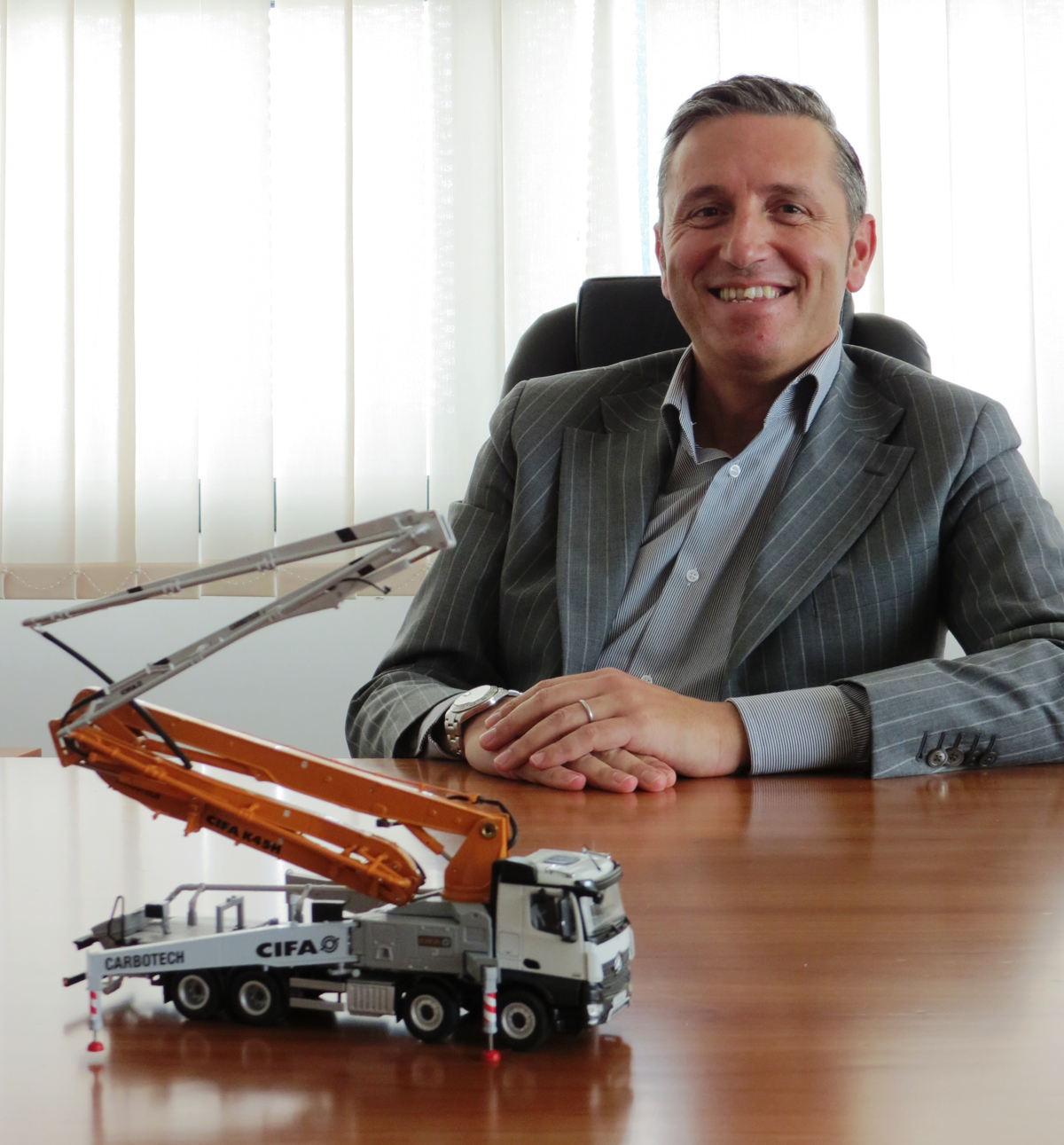 Please tell us a bit about your company and its vision.
CIFA is a driven by innovation company and a worldwide player in the industry of construction equipment. It designs and manufactures a complete range of machines for the production, transport and laying of concrete. Headquartered in Italy, with production and assembly facilities and branches in Europe, China and America, it is represented by a global sales distribution network, which includes the Middle East region.
Why did you decide to sponsor The Big 5 Heavy and Middle East Concrete 2019?
The Big 5 Heavy is the most important and well-known exhibition in this region, taking place in Dubai, that is the hub and business center of the whole Middle East. In such environment, we believe that it is a great opportunity to increase our visibility by sponsoring this key event and confirm therefore our historical presence in this market. Also, The Big 5 Heavy is the best platform to launch our brand new designed products for the Middle East such as the truck pump K61L.
As far as Middle East Concrete 2019 is concerned, we think it is also a great opportunity to be there as this event is very well know and it is a reference in our niche market of concrete equipment.
What makes CIFA S.p.A. stand out from its competitors?
With more than 90 years of history, CIFA has always been a pioneer in the research and development of products and services in the concrete industry, by designing cutting-edge machines and leveraging the latest standard technologies, such as carbon fiber.
In 1974 CIFA invented the truck mixer pump, in 2011 it was the first manufacturer to present a prototype of hybrid mixer and ever since has been at the forefront for the technical innovation with a range of sustainable machines: from transport to concrete pumping.
There are three keywords at the center of CIFA's future: new materials such as carbon fiber, electronics and sustainability. Products that are increasingly ecological, safe and reliable. The respect for the environment drives technological evolution, together with the industrialization of new materials. Finally, the increasing digitization allows developing machine's safety. All this without compromising on the strength of the machines, suitable for hard work on any type of job site.
What products will you be showcasing at the show?
At The Big 5 Heavy we will be presenting the new CIFA K61L, a product that is ideal for markets requiring long truck pumps and high performances. It is equipped with a 5-section boom, with RRZ folding, a pumping unit with a maximum theorical output of 180 m3 / h, 83 bar, electronic management, close loop circuit. It features a 10-inch S valve and 260 mm of concrete cylinder, that guarantees less cycle number per minute, and it offers low noise level during operations and a simple maintenance.
Last but not least, K61L features our Smartronic Silver machine management with LCD monitor, counters, pumping unit management, diagnostics and rear capsense control panel in standard equipment.
This new machine completes our already full range in the Steeltech series over the 60 meters, that have booms completely in steel. The 60+ meter range is also already represented in Midddle East with our CIFA Carbotech series truck pumps K60H, K67H, K80H featuring advanced technologies as carbon fiber in some boom section.
What is your opinion on being part of trade shows to promote one's brand in today's day and age?
Tradeshows are excellent channels to promote our brand and maximize its exposure both on local and international perspective. They are also a great opportunity to do networking and get in touch with clients and potential clients. Even in a digitalization era, face-to-face meetings are important to create and consolidate contacts as well as starting the sales process directly right there.
Why is it important to do business in the Gulf region? What is unique about it compared to other regions?
The Gulf region is a strategic market for us as well as for many other worldwide suppliers. Besides the potential which is there and that will increase in the next years, we do look at it as an advanced market having in operation very well-organized groups, dealers, end users which will definitely keep pushing towards the latest technologies and high standard products.
Being a European manufacturer and leader in R&D with patented technologies, CIFA always wants to keep focus on such advanced markets.
Is there something you are really looking forward to in the pipeline?
We are looking forward to keep our presence, investments and visibility in this region, which has already led us to increase our market share and to be already the leaders of most important markets in the GCC and of course, besides the already well-known portfolio, we are also looking forward to deliver our first K61L to this region.
What would you say to others who are on the fence about exhibiting?
Complete your internal marketing analysis, choose well and move forward!
Combination of The Big 5 Heavy and Dubai in November is the best mix of exhibiting ingredients for the GCC markets!
About CIFA S.p.A. -
CIFA is a company that for 90 years has been designing, producing and distributing innovation in the construction field. It is a full liner with a complete range of products for production, transportation and laying of concrete. CIFA constantly invests in research and development of products and services and in the absolute value of quality.
Meet CIFA S.p.A. at The Big 5 Heavy & Middle East Concrete, Rashid A241, Dubai World Trade Centre, from 25 to 28 November!