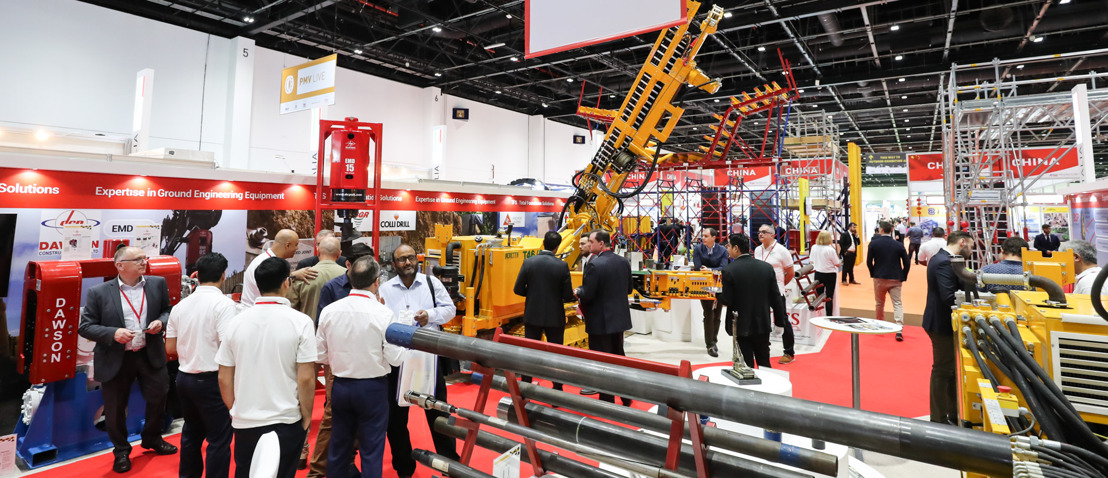 THE BIG 5 HEAVY AND MEC PREVIEW
Serving infrastructure demands of the UAE and beyond
Following a successful launch edition in March, The Big 5 Heavy will now feature alongside The Big 5, and Middle East Concrete, to form one mega event where the industry can source all products for the construction cycle under one roof.
Overview
The Middle East's leading events dedicated to infrastructure, heavy construction and the concrete industry, The Big 5 Heavy and Middle East Concrete will host over 80 of the top local and international industry players and free education seminars from 26-29 November 2018 at Dubai World Trade Centre.
Exhibitors at the event will offer a glimpse into the latest industry technologies and solutions from over 20 countries, across dedicated product sectors: PMV, Quarrying & Mining, Foundations & Geotechnical, Road Construction, Site Equipment, and concrete.
Products will be displayed by industry heavyweights including formwork from Jean Four EuroBress, scaffolding by Ace Aluminium, tower cranes and anti-collision systems by A – Z Technologies, leader in mobile and crawler cranes Sany, contracting group Arabtec and many more.
"With over 6000 projects ongoing in Dubai alone in 2018, making up 53% of active projects in the UAE, the city is at the heart of infrastructure demand in the country," comments Richard Pavitt, Event Director for Middle East Concrete and The Big 5 Heavy. "On the back of this growth we are delighted to introduce The Big 5 Heavy as part of the largest construction event in the Middle East this November, and welcome back Middle East Concrete to The Big 5."
"It is our belief that by keeping up to date with newest machinery, infrastructure and concrete solutions, construction professionals will have all they need to meet the time constraints, efficiency targets and affordability pressures that come hand in hand with their growing market."
To help in this cause, both events will also feature free CPD (Continuing Professional Development) certified workshops. Attendees will have the chance to enhance their skills throughout 'Commercial and Autonomous Vehicles' sessions as well as the all new 'Tunneling in Construction' series by Herrenknecht.
Some of the highlights for the events include:
RTA Innovation in BIM Summit
At The Big 5 Heavy, the one-day only 'RTA Innovation in BIM Summit' run by the Roads and Transport Authority will host speakers who will shed light on topics such as Integrated Project Delivery (IPD), Open BIM which unifies systems for communication, and 5D BIM.
In the lead up to Expo 2020 the RTA has recently announced contract awards for Phase Five and Six of road upgrades leading to the site. Worth Dhs630 million, the projects will include 4km bridges and 12-lane roads.
Tunneling in Construction Series by Herrenknecht
Being held on 28th November 2018, worldwide market leader in mechanized tunneling technology, Herrenknecht will use worldwide case studies to showcase their insight into the market. Their topics will cover the latest developments in utility tunneling, mechanized tunneling, long distance pipe jacking, direct pipe technology and more.
Commercial and Autonomous Vehicles Seminars
Commercial and Autonomous Vehicles seminars will run throughout the event hosting leaders in the field to speak on topics including the Internet of Things, Blockchain and Artificial Intelligence technologies. Esteemed speakers will come from the likes of Siemens, IBM and Parsons.
The Innovation in Concrete Series – led by the American Concrete Institute
The 'Innovation in Concrete' series, led by the American Concrete Institute (ACI), held as part of Middle East Concrete will provide participants with the latest trends and practices including concrete durability, repair, and self-consolidating concrete, as well as offering insight into the ACI Building Code Requirements for Structural Concrete.
Precast Producers Pavilion
Middle East Concrete will also feature The Precast Producers Pavilion. This will include industry heavyweights like: Hard Precast, Gulf Precast, Hitech Concrete, Concrete Technology, National Precast, RAK Precast, Exeed Precast, Techno Cast Precast, Arabtec Precast and United Precast. Zabeel Hall 1
"With the enormous high demands of construction projects, the precast industry will continue to provide a solution of choice to construction challenges and will develop to meet latest demands in the construction industry," says Mohamad Abdul Wahid, Commercial Director at Gulf Precast.
He concludes: "Nowadays we are reading about many new innovations in concrete such as bendable concrete, translucent concrete, self-healing concrete, organic concrete and so on. We strongly believe that the buoyant UAE Construction Industry will be at the forefront of such innovations in the near future."
Organised by dmg events, The Big 5 Heavy and Middle East Concrete are free to attend and will run from 11AM to 7PM daily at The Dubai World Trade Centre. The events run as part of The Big 5, alongside HVACR Expo, Urban Design & Landscaping Expo and The Big 5 Solar, offering a one-stop shop for all things construction related from concept through to design.
To know more about The Big 5 Heavy, click https://www.thebig5heavy.com/ , or register HERE
To know more about Middle East Concrete, click http://www.middleeastconcrete.com/ , or register HERE
For Media Inquiries contact:

Elisha Dessurne Public Relations Executive, dmg events